Creating a decluttered and organised wardrobe for and with your children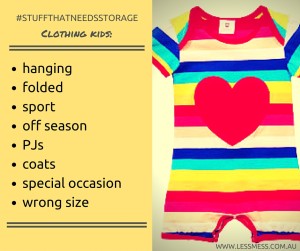 As with everything organising, there is and should be, a different solution for everyone.
We are all different. The common assumption that a kid's wardrobe is just a smaller version of our own might be just the reason it is hard to keep them tidy. Once your kids reached an independent age and dress themselves you might find that they tend to pull the whole wardrobe apart – just to find the outfit they are looking for (or to annoy you!!!)
Organise a kids wardrobe. Together
Separate out clothing into categories, one per drawer, or, if you don't have enough drawers, one per container on a shelf. Label these, bright and colourful, and with pictures for the non-readers.
Teach your kids how you like it, but do let them get involved with re-doing the wardrobe: let them have a choice in décor. Help develop some 'wardrobe pride' with them. Once they are around 5 years of age they should be very capable of putting away their own laundry.
Love your own wardrobe again
Individual solutions are the key to success.
I know this is not always easy. Maybe the wardrobe you have doesn't support your effort, it's really too small, your partner takes over too much space, or his or her system of sorting clothing items might be completely different to yours.
There are solutions to retrofit wardrobes and get over these obstacles.
It starts with decluttering – always
But before we look at any organising solutions, you need to declutter and hopefully, you will not have as many items as before to store.
Take out every single item of the area you want to declutter and ask yourself:
Do I love it?
Do I need it?
Is it useful?
If the answer is NO to all three of these – off they go into the bin or the local charity shop.
Next – organising your wardrobe
Once decluttered these are a couple of pointers to ask yourself when trying to find the best spot for your clothes – and be aware: you don't have to tick all the boxes, most time, in your household, they will contradict each other.
Store 'like with like'
Store where you use it
Easy to find
Easy away
Where you look for it
If you then need to optimize your space, look into clever solutions such as shelves that you can mount in the wardrobe, or a bookshelf that fits under the hanging rod to house your shoes. There are companies that retro-fit drawers and lots of shops to buy gadgets.
Also, look at the way you store things in your wardrobe. Folded T-shirts in a drawer are a waste of valuable drawer space as you always just see the top T-Shirt. But if you just throw all your PJs in that could work very well.
Everything knitted, and that would include the above-mentioned T-shirts, is best folded as hangers make it sag at the shoulders or even poke holes through.
Wardrobe Hacks
Have you ever thought about rolling T-shirts?
Fold your shirt into a very narrow rectangle, roll up and stack upright in a drawer. One view and you see all you have! Or stack the rolls onto a shelf.
The same goes for towels. The rolling saves space and I love it because I think the towels get softer with the rolling.
Try it, think outside the square, find different solutions for everyone in your family (We have three boys, two have their t-shirts rolled, one folded!!).
Question your routines and identify what doesn't work – and keep going if something works!
Here is a fun video I produced some years ago on 'how to fold a T-Shirt in 15 seconds'