On the 6th of August 2006 I worked with my first client!
Celebrating 16 Years of LessMess

This makes me the longest serving Personal Organiser in greater Sydney!
There is a LOT to celebrate. Over this last decade and a half I am proud to have such a diverse range of clients at LessMess.
Oh, all the places we have been to…
In homes and workplaces I have worked with:
whole families
young mums
teenagers
retirees
down-sizers
world travelers
expats
business (women).
Decluttering, downsising and organising has taken place in spaces small and large, in the heart of homes or its hidden rooms. We have worked with our clients in:
kitchens
sheds
bedrooms – lots of them
garages
storage facilities
a garden
kids playrooms
kids bedrooms
offices
living rooms
corridors
attics – mostly in the middle of summer
spare rooms
and sometimes not in the house at all!
I coached clients through the decluttering process remotely (the COVID pandemic made us resilient and creative and very productive like that). I produce a newsletter (although less and less so). I have had a Facebook presence since September 2010 and am on the fourth iteration of this website.
Spreading the Word about LessMess and Decluttering Tips
Since 2014 I have had 8336 people listen to my Sustainable Living Workshops – a highlight being a main stage speaker in front of 1500 delegates at the Sydney Happiness and it's Causes Conference in 2018
I have been on radio relatively regularly – and loved it,  including an ABC produced podcast.
I have been on TV a couple of times and not enjoyed that as much.
You can find interviews in print media and I have written countless articles myself!
I have delivered decluttering and organising services, talks and workshops for:
private
corporate
councils
not-for-profits
educators and
conference facilitators.
Decluttering can be done Responsibly
Yes, many of my clients have to declutter AND organise, but often we all just have simply too much.
I don't believe storage products is always a solution, there is much more to it. But when needed I shop for my clients at
Ikea
Howards Storage
K- Mart
Big W
local 2$ shops
Kennards storage
Spotlight…
However, a responsible and sustainable way to deal with unwanted and excess items is important to me. I help clients donate stuff they do not need anymore to
the Salvation Army
St. Vincent de Paul Society
Save the Children
and also did a market stall for Havannah House
If things are not suitable for donations, LessMess recycles through
And in the spirit of Reduce, Recycle, Reuse, I listed unwanted items for sale or free for my clients on
eBay
Gumtree
Freecycle
or Facebook marketplace.
I also worked on the board of the industry association Australasian Association of Professional Organisers (AAPO, now defunct), and am a founding member of the Institute of Professional Organisers (IOPO)
More than 1000 Homes are more Organised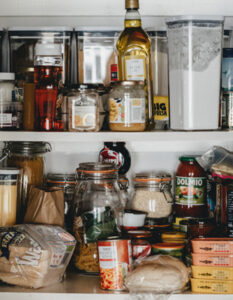 I had 1512 client visits to be precise…  and counting.
I still work with some clients from over 10 years ago; fine-tuning and amending as their lives change and so does the content of their homes and offices. I have seen their kids moving from primary school through high school and then out of the parental home.
I have moved people from A to B to C to D.  I have decluttered family homes into retirement villages into higher care and attended funerals as the final resting place.
Most of my clients have been female – to start with. Sometimes I work with whole families – or every member of the family separately. Some have recommended to friends, families and co-workers.
Some find me through the website, the IOPO Find Your Organiser directory, or get to know me through my Sustainable Living workshops or a keynote.
I do work with those with a hoarding disorder (I had one client with the surname Hoarder!) OCD, ADHD, Autism, Depression, Anxiety, PTSD, Alzheimer's…
I have also helped breastfeeding mothers, the elderly, people with broken bones and mobility issues.
It's Team Work
Over time as projects got bigger, I started working with teams of
Professional Organiser Assistants
Cleaners
Removalists
Handymen
Laborers
Rubbish Removalists
I started working with NDIS funded client soon after its inception in 2016 – and had the odd home care package funding.
As a Qualified Interior Architect I have designed
beautiful kitchen fit-outs
practical laundries
home offices
integrated working and storage solutions for teenagers
and my favourites: working garages and productive sheds!
As you can see it has been a mighty ride, and I am proud of where LessMess has taken me to from the humble beginnings.
Here's to the next 16 years!