Are you prepared for the Silly Season?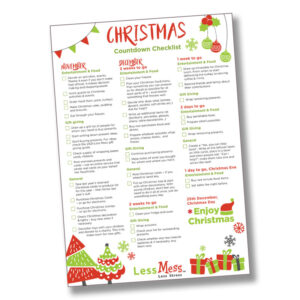 DOWNLOAD our PRINTABLE Christmas countdown and checklist.
Do you have the feeling that Christmas comes earlier every year? And I mean earlier in the shops? I think so too, but take it as a sign to get started on an organised, stress-free Christmas this year.
The trick is in the planning part – but everybody knows that. My background is German, and we celebrate Christmas Eve rather than Christmas day. So we have to be ready 12 hours earlier. Why not aim for that so you can have a relaxing night on the 24th and a good night's sleep.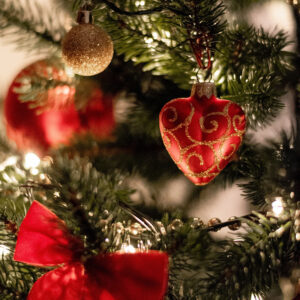 I love it because we are done and dusted when the neighbours are still busy putting the roast in the oven.
This is the LessMess Christmas checklist.
Just amend the details to suit your family's needs.
Hang it up in a prominent place in your house and keep working on it, adding items and most importantly crossing things off – and tell someone that you are going to be very organised this Christmas. By doing this, you are accountable to not just forget about the list and you are much more likely to finish what you have promised.
November
Entertainment and food
Decide on activities, events. Theme it even if you don't make that official. It makes decision making and shopping easier.
Invite guests to Christmas activities & events.
Order food (ham, pork, turkey).
Make Christmas cake, pudding and biscuits.
Eat through your freezer.
Gift giving
Draw up a gift list of people for whom you need to buy presents.
Start writing down present ideas.
Start buying presents. For ideas check the 2021 Less Mess gift giving guide.
Check supply of wrapping paper, cards, ribbons.
Post overseas presents and cards – use an online service that sends real cards on your behalf like Touchnote.
General
Take last year's received Christmas cards to produce list for this year – then throw last year's out!
Purchase Christmas Cards – or go for electronic.
Purchase Christmas stamps – or go for electronic.
Check Christmas decoration & lights – buy new ones if necessary.
Declutter toys with your children and donate to a charity. This is to make room for new gifts.
December 3 weeks to go
Entertainment and food
Clean your freezer.
Plan your Christmas food menu. Plan something you can prepare as far ahead as possible for at least parts of it – even better something that freezes well.
Decide who does what (entree, dessert, alcohol, soft drinks etc.) Ask for help!!!
Write up additional items list (bonbons, serviettes, glasses, chairs, table decorations…)
Buy non-perishable food and drinks.
Prepare whatever possible: chop onions, cheese, herbs… and freeze.
Gift giving
Continue purchasing presents.
Make notes of what you bought for whom and where you hid it. (My mum always forgot at least one present – I actually loved it; getting just one more the next day!)
General
Post Christmas cards – if you intend to send any.
Put up Christmas tree & start with other decorations. With young children, don't feel you need to do it all at once, just do something every day.
December – 2 weeks to go
Entertainment and food
Clean your fridge and oven.
Gift giving
Wrap presents.
Check your list for outstanding presents.
Check whether any toys require batteries & if necessary, buy them now.
December – 1 week to go
Entertainment and food
Draw up timetable for Christmas lunch. From when to start defrosting the turkey to serving coffee & mints.
Remind friends and family about their contributions
Gift giving
December – 2 days to go
Entertainment and food
Buy perishable food.
Prepare what's possible.
Gift giving
General
Create a "yes you can help bowl": write all the leftover tasks on little cards, place in a bowl and when people ask:"can I help" make them take one and action the task!
December – 1 day to go
Entertainment and food
Buy last minute food items.
Set table the night before.
December 25th Christmas
enjoy Christmas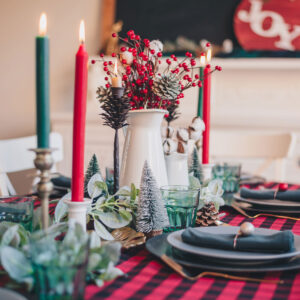 For more tips for a very relaxed Christmas please read my "LessMess Christmas Gift Giving Guide"