I write everything in pencil in my calendar – which is also my notebook and catcher of my to do list:
Until 12 years ago, I never used a calendar or planner

Until I started LessMess more than 15 years ago, I did not have a calendar – didn't need it. Live was simple and appointments came regularly and routinely.
Small kids come with their own routine, and I always felt my life easier for following it.
Finding the right solution for you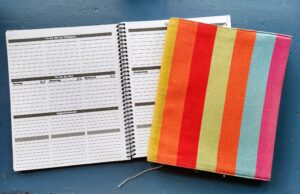 Once I felt the need for a calendar I searched – for something that works for me and supports how my brain ticks.
I did find something in America, a week per double page, pre-printed with US holidays and annoying half hourly time slots and quite expensive + postage!
After two years using that one I created my own. I print yearly at Officeworks and then stitch a beautiful cover for it.
I use it for everything:
thoughts
to do lists for the day
to do lists for all the separate aspects of my live
appointments.
I always have and always will write everything in pencil!
I realised over the last two year, that this is a huge asset. I do plan, but nothing is in concrete; everything can be erased and replaced with something else – or, as was the case in 2021 – with nothing! (to be honest, I did put my walking with friends appointments in my calendar)
I am very flexible and sudden changes do not faze me. I am very lucky to have that mindset, as I watched friends, family and clients struggle with the uncertainty of live with COVID.
Get your pencils, sharpeners and erasers out to manifest flexibility in your life!