What a Professional Organiser can do for you
We de clutter, coach and give advice.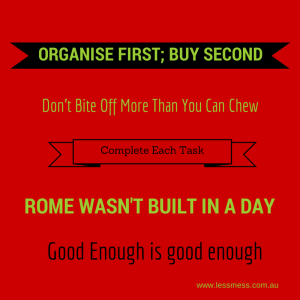 Hands on de cluttering

We understand that most people are on a budget, so we tailor our programs to suit your needs. We do whole houses or declutter single rooms. We sort and purge with you. We give you the emotional support to face difficult decisions. Together we create inspiring results so you can continue the journey with confidence. We offer absolute confidentiality with all of our services.
Transfer of skills

We walk through your spaces together to assess the situation and find solutions. These solutions give you the chance to be organised – because from now on, everything in your home/office has a space. When de cluttering, we teach clients ways to get started, stay focused, and finish the designated project. Our goal is to pass on our knowledge, because we believe that organising is a skill everybody can learn.
Product advice

We suggest products and shop for you, if desired. We advise on additional services like handymen, cleaners, carpenters, and rubbish removal.
Give us a ring to find the right solution for you
(02) 9712 4159 or 0407 772 663