"I found Susanne's talk fascinating, informative, and motivating." Peter, Hornsby
If you want to engage Susanne for a conference or event, please connect here.
Susanne Thiebe is an honest and practical speaker whose educational talks have helped many people come to a deeper understanding of how to create change for themselves — to live a life with less stress and more serenity.
In September 2017, she was invited to talk about her successful collaborations with community educators on 'How to engage an audience to make lasting change in their live and for the environment' at the 33rd NSW Environmental Education conference.
Happiness and it's Causes 2018


As a main speaker Susanne will be talking about how to de-mystify the relationship we have with the physical items we surround us with. The need to come to a deeper understanding of what these items do to our hheadspaceand relationships. See the full program  here.
Professional Advice on Changing Lives
For over 10 years, Susanne has combined her hands-on life experience with her work as an Expert Professional Organiser to provide insights into how the world around us affects us personally and how to live sustainable lives.
As a working mum, trained Interior Architect and award-winning gardener who manages both her family and her own business, Susanne understands the need for organisation and balance in our fast-paced, modern lives.
"We have to start living by accepting the boundaries in our individual lives and the wider world around us…"
Susanne's Inspirational Approach to Life
As an expert speaker, Susanne Thiebe's fun personality, natural and direct approach to the audience creates an inspirational atmosphere with compelling and persuasive communication.
Her valuable, life-changing messages are conveyed with a unique and quirky delivery that stays with the audience long after leaving the building.
"In our busy society, the physical world impacts our wellbeing, productivity, and the people around us. We need to focus on finding time and finding ourselves…"
Susanne tells stories of her experiences that spark meaningful action in those listening. She has been changing lives for 10 years, and her insights are both compassionate and encouraging.
She inspires people to approach life with conscientiousness and active thinking, showing them how they can apply her learnings in practical ways in their everyday lives — taking away valuable new understandings of the world and ourselves.
---
Workshop Topics
• Living with Less
• Meal Planning
• Study Skills for Teenagers
• Organise your Office
Speaking Topics
• How to create a work-life balance and embrace serenity
• Less is more: why we need minimalism in our lives
• Accepting boundaries between the wider world and our individual lives
• The power of letting go and understanding personal limits
• Personal life change management
If you want to arrange a workshop or keynote for a group or an event, please contact Susanne
Testimonials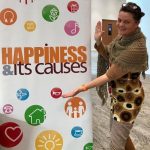 "Susanne gave an insightful and inspiring presentation on 'Why we need Minimalism in our lives'  at the Happiness & Mindfulness stream at the Happiness & Its Causes conference 2017. The session was packed with many delegates; some not able to get into the room – evidence of the popularity of the topic. With lots of practical tips on how to declutter both our space and our minds, Susanne's presentation was a highlight of the conference for many of those in attendance."

Beth Phelan, Conference Director, Happiness and it's Causes 2017
" Susanne's talk fascinating, informative, and motivating.
Recently I began to recover from a marriage breakdown (30+ years of marriage). My wife had good reason to basically walk away from our house taking only what she wanted. I found the task of decluttering simply overwhelming and far to upsetting. That has only changed in the past few weeks. I'm now ready to embrace the decluttering techniques and tips Susanne provided.
Many thanks again Susanne!"~

Peter, Hornsby
Susanne was very professional to deal with and was thorough in her preparation and presentation on the day. The workshop was clear and practical and a workshop manual that was provided really helped to focus the ideas and will serve as a good reminder in the future.  I found the workshop inspiring because even as a well organised person I learned some good practical ideas to deal with my stuff especially in considering the concept of being organised compared to being tidy."
Tai Kingston, Blacktown Council
Sustainable Resources Engagement Officer

02 9839 6830
Tai.Kingston@blacktown.nsw.gov.au
Participant feedback
Inspiring

Easy to understand

Relevant

Informative

Practical

More than expected

I liked that Susanne had a knowledge of ADD which is great because not everyone thinks the same. I especially have issues with time management. Thank you for addressing that!

I am going home with useful ideas

I will start today

Very inspiring to get going

Great local knowledge
read more feedback here
we would love to hear from you
Please submit your details below and we will be in touch as soon as possible or you can call us on (02) 9712 4159 or 0407 772663.