Mental Health First Aid (MHFA) teaches people the skills to help someone who they're concerned about.
Professional Organisers  come across a lot of stuff – and behind this stuff are often stories, big and small; and emotions, big and small.
Items might trigger a response, clutter might be the symptom of a mental health condition. We come across clients and family members suffering from anxiety, depression, hoarding disorder, OCD and a variety of other illnesses.
Understanding them and knowing how to respond and behave has given me a lot of confidence to continue working  in complex and often very emotional environments.
I feel more confident to respond to situations that might present themselves when working with a client in their home
Identify a mental health illness and/or crisis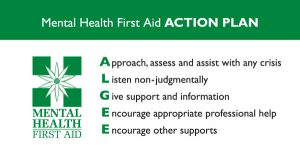 Be familiar with signs & symptoms
How to approach someone and start a safe conversation
Know the right thing to say
Know how to minimise risk & not make it worse
Take the right action
A plan of action to help to respond
Mental health problems can affect anyone in the community and inaccurate and stigmatising attitudes towards people with mental illness are common. Many people lack the knowledge, skills, and confidence to support a friend, family member or co-worker experiencing a mental health problem.
Encouraging early help-seeking is one way to promote  mental health.
Mental health problems covered
Depression
Anxiety problems
Psychosis
Substance use problems
Mental health crises covered
Suicidal thoughts and behaviours
Non-suicidal self-injury
Panic attacks
Traumatic events
Severe effects of alcohol or other drug use
Sever psychotic states
Aggressive behaviours