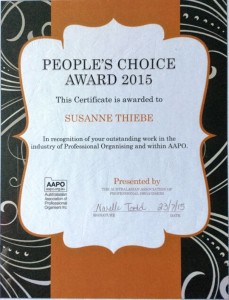 Two weeks ago, at the annual Professional Organiser Conference in Melbourne, a colleague of mine, Sarah form Heavenly Order and I won the people's choice award for our innovative idea to promote the industry, our own business and above all help out a under-resourced not for profit organisation in country NSW.
Here are the details in the nomination quote:
"Reason for Nomination: 
Community Building & Collaboration – Organising with a Purpose
Sarah Cottman from Heavenly Order and Susanne Thiebe from LessMess support Havannah House, a halfway house in Forbes in Central NSW through passing on donations from clients.
In November 2014, with permission & cooperation from their clients, they decided to have a market stall to raise money selling donated clothing, books and other items.
The market was huge success! Through explaining to their clients where their donations might end up, clients became motivated, excited and even more generous. They were/are able to let go of more items with purpose!
On market day, there were many fruitful conversations with customers at the stall about organising, de-cluttering as well as the influence our stuff has on our well being. Most of those who bought, gave a little extra; one Mum even took the time to explain to her child knowing where the money would end up!
The stall raised over $500 that was deposited directly to Havannah House.
Through a collaborative approach, they also sourced:
Building communities is so important, in life, not just for business.
Havannah House provides shelter to families who have exhausted all government support, all charity support. They are a last resort to those in desperate need. They are one of very few institutions where the boys can stay with their families/mums beyond the age of 14. This is a topic very close to Susanne's heart with her own teenage boys reminding her every day, that kids need their family.
Sarah has been working with the ladies who run Havannah house for a few years. She knows that being organised is not just helping to de-clutter or donating goods. It can be about teaching how to keep house, basic cookery and budgeting skills. Havannah House does this all as well as teaching academic skills. and eventually assists these families to find employment.
Sarah & Susanne will continue to build this relationship and actively encourage anyone else to join in or create their own amazing connections."
We are both extremely grateful to have had this opportunity to help and thank everyone who voted!