(this is an article I wrote years ago for my newsletter – it never made it to the blog. But as we are going camping this weekend, I thought I give it some new life)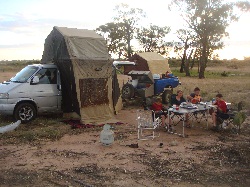 Last weekend we went camping. We have been going this particularly weekend for 5 years, with friends through school. The kids are a bit older now and it becomes easier for us adults to have a good time. (I am sure, the kids always had a good time)
When they where little, we used to take a lot of toys and kids entertainment – never used it. I remember one time we did kids Olympics without any preparation at all: three legged race with tea towels to bind legs together, horse racing: bigger kids carrying smaller ones, javelin: throwing sticks, running races and hopping games. We even had sparklers for a grand finale.
So much you can do with nothing, and camping is good fun because of the simplicity. You take one cup, plate and knife per person and nobody complains. The kids don't need toys and we have a "no electronic games policy" that nobody questions. We are having fun living rather than making decisions: which toy to use and later pack up or which tablecloth to put on the table. Simplicity is good and gives you a lot of time. So when de cluttering just ask yourself the question: what would I take camping?