The Floor is not for Storage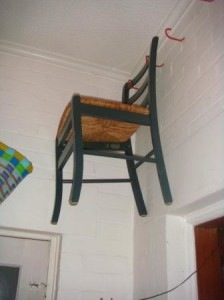 When a room is cluttered and untidy, the best thing is: start with the floor. An empty, tidy floor immediately looks much more organised, even if there is still a lot of chaos left in the room. The Quakers – a religious and social group in America- made it their mission to have an empty floor and created lovely furniture for that. They basically hung everything on the wall: Form brooms on hooks to kitchen appliances – even chairs hung from the wall.
That was one of the first things when we moved into the house we have now been in for 11 years. We bought a dinner table with six chairs but didn't need 4 of them in the beginning (two adults one child in a highchair) so we hung the spare chairs above the door in the office. Easy enough to grab if people come around, but out of the way for normal days.