by Helena Tosello
One of the most useful skills you can teach your child is organisation. Organisation teaches children about responsibility and independence. As they get older they will learn, with your guidance, what type of person they are and what works for them. You can help them build on their strengths (eg early bird does homework before school) and set up support in other areas (eg breaking up assignments into chunks for procrastinators). As they build their skills and experience in organising, they will start to see the benefits of being organised such as time, money and energy saved, as well as less stress.
There are two main areas to learn, and practise, organisation:
1. Organising things is about storage and consistently placing items in the same place to prevent lost items and minimise time and energy looking for items.
2. Organising time is about routine and planning. Doing tasks at the appropriate time and thinking ahead so that enough time is allowed for tasks.
Pre-School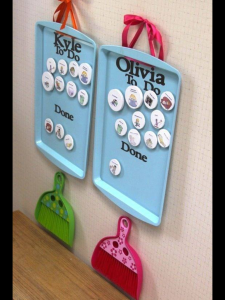 When children are young you organise all their time and items for them. Mostly this benefits yourself and the household and helps you survive the crazy years when there's less sleep, time, money and energy in general.
Around three years of age, you can talk to your pre-schooler as you put groceries and laundry away, and they can help with suitable items. Explain where items are kept and why. Include their own items such as hat, shoes and bag for day care or pre-school. Talk to them during their morning and bedtime routines so they can learn why toothbrushes are kept in the bathroom and Mum keeps her keys near the door (or whatever happens in your house).
Many parents will list out loud the chores or errands to be done when leaving the house. I used to do this so much my youngest started to say "time for coffee" after we dropped his older brother at school. He was only three and a half years old!
Primary School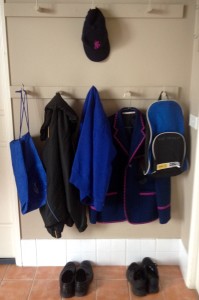 Starting school means they need to start looking after their own things and this is so much easier if they're organised. Teach them "a place for everything and everything in its place" and talk about the benefits, such as how quickly and easily you can get ready for school (leaving more time for TV and games) if school bags, shoes and hat are in the right place every time they come home.
A set routine in the afternoons also helps them start to think about time management. They may not have an idea about time yet so talk to them about it in a context they will understand. E.g. "When you get home you can have a snack until <insert name of TV show> is on. After you can watch that, we will do your home reader for 10 minutes (show clock or phone timer). Or "After soccer practice, it's time for dinner then bath and bed." Use charts with pictures or simple words for younger kids.
As your primary child gets older, talk to them about their weekly activities as well as what mum and dad have to do. Fill out a weekly planner with them to help both of you identify time for homework and assignments. Ask in advance if they need help or materials for a project – plan when that will happen. Note when family commitments and work trips are planned so they don't leave requests for help building that animal shelter until the night before it's due.
Print out whole term with boxes for days and each week. Help your child write in the dates and term week numbers, as well as important dates for tests and assignments. Work out with them in advance when they can go to the library, visit the craft shop, call Grandma for an interview or make their model of the solar system.
High school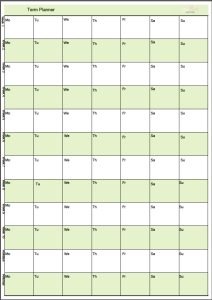 In high school, the onus is much more on the child to organise both their items and time. Not only do they have more subjects and items, and less time, but also more tests and assignments and less help from you as there may be younger siblings or increased work commitments.
Continue with the above but with more emphasis on them doing it for themselves. Encourage and reinforce diary use. Check it daily or weekly, especially in year 7, so you can see if and how it is used. Check they have marked when tests and projects are happening. Most high schools will have a year coordinator who will advise parents of all the term's assessment dates and the weightings of these. Ask to see these if they are not sent to you. Discuss with your child what they are planning to do each weekend. E.g when are they doing their exercise/chores/homework? Again continue to assist with planning and making suggestions. Advise them when family and other commitments eat into their time and when parents or others are not available if they will require help.
Teenagers are changing and continue to need your help with their routines. Make suggestions as they now have to include more personal hygiene tasks and travel into their school day. You know your child best. If they find it hard to get going in the mornings, help them to be extra organised the night before and supply fast, easy breakfast foods. Continue to set and enforce bed times and no screen time.
As your children grow and learn, make sure you show appreciation for their efforts (it helps you tremendously if they are organised) and praise them when they think ahead and show initiative with their own organisation.
With the development and experience of basic organisational skills, your young person will be able to extend them towards other areas as they mature, such as finances, phone plans, fitness, part-time jobs and other goals.
Helena is a mum in the middle of everything trying to regain the centre stage of her own life. She lives in inner west Sydney with two boys and a fly in-fly out husband. She enjoys coffee with friends, being organised, researching, sharing, and working on her fledging blog.
You can follow her schoolsavvymum.wordpress.com www.facebook.com/SchoolSavvyMum.
PS
If you like the idea of a term planner for your school child, I have a A3 printable template. I am sure there is a way to put a button on here and make it downloadable, and I will figure this out eventually, but for now, if you pop me an email I'll send the pdf to you!