I have installed this system not just in my own house, but in customer's laundries, too. It's the absolute best in many ways: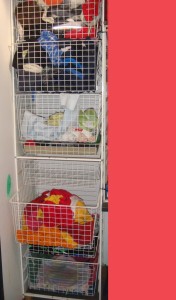 you can store a lot of dirty washing – the baskets are square. (Who invented oval or round laundry baskets – such a space waste!!)
you can store your dirty laundry vertically, no more clothes on the floor
easy to sort by colour
They fit exactly one full load. Whenever the baskets get packed, wash.
The wire makes them ideal even for damp clothes – no more moulding in the laundry.
If you really run out of time putting your clothes away (which is a big no, no!) you can fold them into the baskets and slide them back into the shelf. (But promise me to put them away tomorrow)
The only disadvantage is the price, but it will solve your laundry dilemma!
Elfa is the only one in Australia offering the big size baskets. You can get them at Howard's storage, flat pack and put together yourself, or your local Howard's can recommend an installation service to you.
As for price: It depends on your space and the configuration. Just take your measurements to a store, and they should be able to work it out with you.