… and with that I don't just mean travelling for holidays – I found with little kids it doesn't really matter whether you go to visit Grandma overnight or just dash to the shops. So with travelling I am talking about everything which involves going from A to B.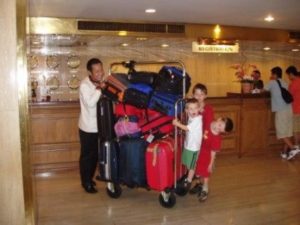 As a mother of three I know what I am talking about, having travelled overseas on my own with a 5 year old, a 3 year old and a 4 month old – survived and actually enjoyed it.
I think the secret is in being organised, know what to expect and prepare for the worst so nothing is surprising you!!
On the same token, sometimes it is easier to avoid travelling – for example going to the shops "just" to pick up some bread.
Most people don't believe me, but I find it easier and quicker to bake my own bread then getting three kids out of the house, strap them into the car, get them out, chace them though the supermarket, back in the car, and finally out of the car…that's a lot of effort for just a loaf of bread.
So I would say: be prepared when you travel, enjoy it, but avoid unnecessary travelling.
Here is my Travelling list: pleaese comment to add to this
Short trip:
Always have the nappy bag refilled and ready to go.
Have some spare clothes that fit more than one child.
Have a basket/box on the passenger seat for everything you need during travelling. That way it stays in one spot and you can take everything out after the drive
Car:
Have some toys in the car which don't get played with otherwise – make them special
Take little toy treats to bribe them for silence and good behaviour.
Play kids music and sing along
Play story tapes
Plane:
Take an (inflatable) ball for stopovers so they have a purpose to run around.