October is 'buy nothing new month'. It's promoted by minimalist bloggers and commentators as well as the Op Shops we have in our communities. Some Councils get on board and some charities encourage you to donate the saved money to their cause.
On their website they use the slogan:" Don't feel good, got Affluenza?" Which I find pretty clever knowing how stressed people with too much stuff can be and how much it weighs you down. They have some great 'how to buy nothing tips' on their website
I encourage you to think about what you could go without,  for the month of October. And maybe Helen's story below can encourage you.
What I learned after a month of not using hair products

 
 First I must clarify:
I did use shampoo and conditioner. 

I kept to my usual pattern of washing my hair every 3-4 days. 

I had to go about my usual routine and not hide under

my

doona every day.

 
Recently while working on an awareness and fundraising campaign for the charity where I volunteer, Life Changing Experiences Foundation , I flippantly offered to give up hair products for 30 days* to help raise funds for the Foundation's SISTER2sister Program which provides disadvantaged teenaged girls with mentoring, education and crisis prevention.  
 "This will be easy," I thought, as others were taking on more arduous challenges such as giving up coffee, chocolate and shopping for the full month of September.  
 "I'm not that vain. I'm not going to an office every day. I don't go out much. No one will notice and neither will I. It will be easy." 
 How wrong I was! 
 The first thing that hit me was just how many products I use on my hair. Besides the ubiquitous supermarket-bought shampoo and conditioner, I had mousse, gel, hair spray (a gigantic can), heat protectant spray, black crayon (for covering greys) and three kinds of dry hair shampoo – powder, black powder (those pesky greys again) and spray – three cans of dry shampoo spray – three! How did I amass all this hair trickery, and did I really use them all? 
 Well yes I'm ashamed to admit I did use them all regularly and some daily. I was hair-vain. 
 In my defence I do have very fine (thin strands), thin (sparse) hair. A few hours after I wash it, it hangs down dead straight and flat on top like a thin tea towel clinging to my head with no body, no volume, no oomph. Plus I have a lovely permanent tuft of short strands that like to stand at attention at the front of my hairline making me look like a deranged cockatoo. So my usual practice of using mousse to fluff up the front when wet then hair spray almost daily and dry shampoo to add volume was a no-brainer to me. It was only when I put all the products in a box in another room that I realised how much time I spent making my hair look like I halfway cared about my appearance. 
 What else did I discover?  
 My collection of hats, caps, beanies and head bands. I was lucky the weather was cool as I could wear jackets and tops with hoods, though middle-aged women cannot wear a hoodie with the hood up indoors. It virtually screams "BAD HAIR DAY". 
Hairbands are actually quite handy as is a pair of sunglasses on your head to hide the dirty hair. Even if it's pouring rain outside. Why am I still wearing my sunnies inside? Well if I keep them on my head, I won't lose them, quick-thinking me responded. 
What else did I learn? 
 I learned not all the products are really necessary and some products could multi-task, such as the black coloured dry shampoo spray.
People didn't really notice or they were too polite to point out the sudden Mohawk appearing on my head in the afternoon.
The bathroom surfaces were cleaner as there was no hair spray to glue the dust down and I'm sure the air quality in our house is better. My hair doesn't seem to have changed much but there is much less clutter in the bathroom.  
 It really did make me think of the girls we are raising money for who often don't even have essential toiletries let alone enough spare money to think of hair spray and mousse as a daily essential. I realised how very lucky I am and how easy it is to go without something I thought was necessary in order to help another. I'll definitely be using less products in the future.  
 Helena Tosello is a fledgling writer, social media marketer-in-training and experienced household CEO. She lives in Sydney's inner west with her husband and two teenage boys. While trying to decide what to do when she grows up, she volunteers as social media manager for the Life Changing Experiences Foundation and its SISTER2sister program. Find out more: www.lifechangingexperiencesfoundation.org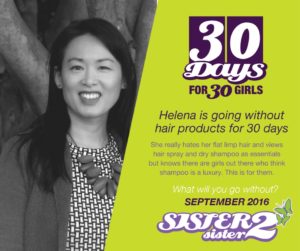 *Encourage Helena to continue going without hair-taming products for the rest of September by donating to her challenge for 30 Days for 30 GIRLS to raise funds for The SISTER2sister Program which mentoring disadvantaged teenaged girls.