Paperwork Workshop – a review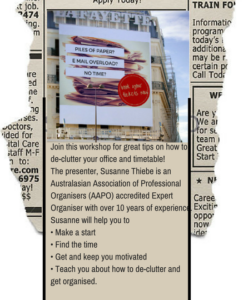 I saw the ad and thought, why not? I could sure use the help.
Being a busy work-from-home mother, CEO of the Household and Queen of the Don't-throw-that –out-I-haven't-read-it-yet Brigade, I knew there had to be a better way to get on top of the ever-increasing piles of paper and emails without sending little Johnny off to school minus his bookweek costume or missing the Council notice about upcoming roadworks simply because I'd misplaced a piece of paper.
The local community education space that is Da Vinci Hub is cosy, welcoming and importantly, local. This made it that bit easier to get to on a Monday evening after a long day. Over a dozen women of various ages and life stages had made the effort; perhaps demonstrating that it's women who make the decisions about information flow in the household or the office, whether it arrives in paper or digital form.
Susanne starts off by asking you to focus on your top three areas of concerns and guides you through the thinking process of how to deal with clutter in what is a pleasantly personalised exercise. You're not left sitting there thinking "I wish this person would stop asking questions that don't relate to me" because she makes it easy for you to understand the key principles of decluttering and applying them to your situation. Susanne's down-to-earth, practical speaking style, is enhanced by her German accent, making her sound calming and personable in a distinctly pragmatic way.
It turns out that the steps to decluttering your email inbox is the same as for decluttering physical paper: Focus on one area (or inbox folder) decide on each piece whether to:
Keep in that spot
Throw/delete
Give it away/forward to another and delete
Put it somewhere else/file
It all sounds so simple in theory but you are not make to feel a failure about not being more organised. Susanne walks you through the process and decisions you must make along the way; demonstrating with samples of files and binders, and graphics of what exactly to click on in your email.
Her experience with personal organising clients, shows through in her gentle but firm treatment of the topic and people's own issues with paperwork and clutter. She is realistic and understanding of you and your family or household situation, and more forgiving and approachable than most productivity "experts" who want to sell you a 10-point list system with pre-printed, colour-coded tabs. In fact, Susanne warns, buying a storage system before decluttering, can add to the clutter and feeling of disappointment if they fail to fit with your way of thinking about clutter, as well as increased waste.
 Clutter is delayed decisions
This has me thinking about my tendency towards procrastination which I had never really linked to the pile of papers I keep perched on the end of the dining table. There was a reason why it felt so difficult to get rid of it! I felt like someone finally understood me.
Paperwork and emails represent the overwhelming influx of information and increasing number of decisions that we now need to make to lead our lives. These decisions represent actions or communications that often affect not just us, but others in our lives. Adding pressure to the situation in the form of expectations about how "being organised" should look like, only adds to our disappointment when we fail to use the pretty new in-tray system or lose a critical piece of information.
With over 10 years' experience, Susanne is aware of current trends in thinking about clutter, stuff, productivity and how it affects your whole wellbeing. She dispenses with the myths – "You should only touch a piece of paper once" works only for CEOs of large corporations – and makes you feel like being organised is attainable – "If you can find what you need, when you need it, you are organised. Whether it's chucked in the box or tucked into colour-coordinated folders."
Helena Tosello is a fledgling writer, experience household CEO and expert carpooler. She lives in Sydney's inner west with her husband and two teenage boys. While trying to decide what to do when she grows up, she volunteers as social media manager for the Life Changing Experiences Foundation and its SISTER2sister program. Find out more: www.lifechangingexperiencesfoundation.org or follow them on Facebook <insert link: https://www.facebook.com/LifeChangingExperiencesFoundation/
For more paperwork workshop dates click here