Who we are at LessMess

LessMess is a Professional Organising business specialising in office and family management.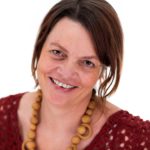 My name is Susanne and I created LessMess offering decluttering, organising and education service in 2006.
I was born in Germany, have an Engineering degree in Interior Architecture and am an award winning gardener that likes weeding and pruning.
For the last 20 years, I have been living in Sydney's inner west, where fitting into a small house is a financial necessity – sharing the house with my husband, three (male) teenagers, three chooks, a (female) cat, lots of friends and (overseas) visitors.
I am an experienced workshop facilitator and public speaker. Over the years, I have been reaching a wide audience with my sustainable living workshops.
In June 2017, I spoke at the world's largest conference on happiness and wellbeing sharing my ideas about a simpler live and have been invited again for 2018 .
I am a founding board member of The Institute of Professional Organisers (IOPO)  everyone in our team follows their Code of Conduct.
I am on the team organising the first ever expo about organising and simplified living.
Confidentiality is key
Celebrating 10 years in business
10 Years ago, on the 10th of August 2006, I worked with my very first client. A couple of weeks earlier I had joined my Industry Association, brainstormed a business name and had my first version of this website go live. All in between caring for my kids, two in primary school one just started daycare.
Time flays, the oldest one is at Uni two younger ones in high school.
I have worked with over 450 individual clients and families, turned a part time business into a full time one and now have a team of Organising Assistants and hadnyman that can help out if a job requires.
I have been featured in the media, radio and on TV as an expert commentator.
4 years ago, I started running public workshops and can add over 4000 participants to that list."
To get to know me and my business philosophy, check out the blog with organising tips, interesting web links, and snippets of our family's personal journey to live a life less stressful and more fulfilling.
Organising is a skill everyone can learn.
You can also subscribe to the LessMess newsletter, follow Susanne on Twitter, like her page on Facebook .